Accommodation
You want to have a place to return to when travelling. Somewhere where you're always greeted with a smile. A room where you can rest and nothing will disturb you. We'd be pleased to help you. Simply choose the room that best meets your needs and requirements.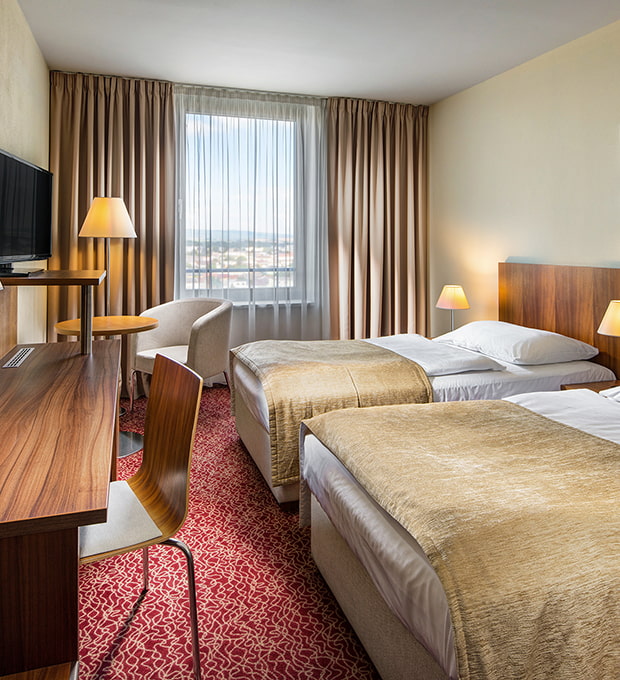 Overview of rooms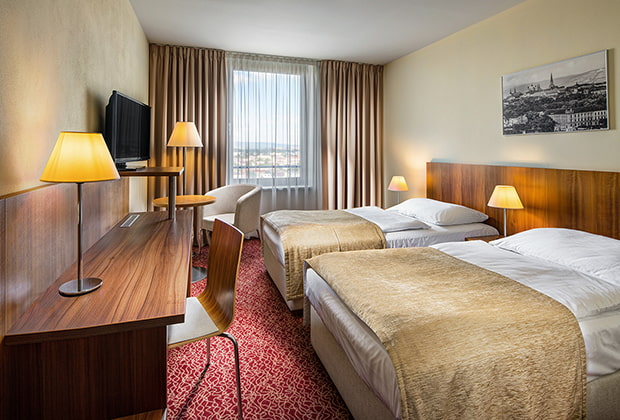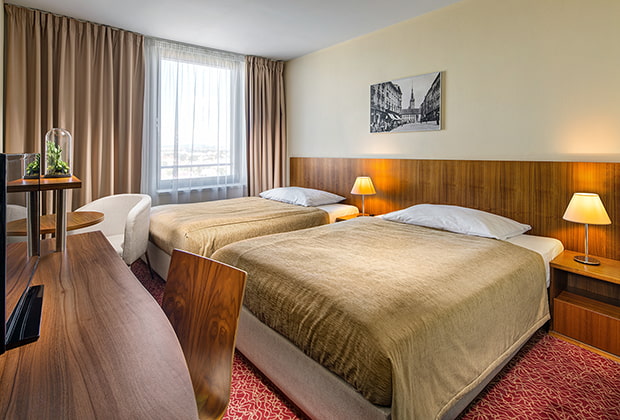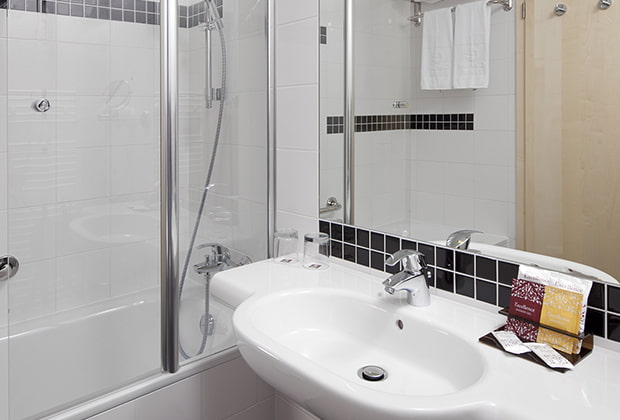 Standard room
You want to reserve a room and basic 4* furnishings are sufficient for you. Then this category is perfect for you.
Air conditioning
Bathtub
LCD television
Refrigerator
Coffee and tea set
Extra⁠-⁠bed possible
Safe
Ironing set
Quality Italian Prija cosmetics
Hair dryer
Barrier⁠-⁠free room available (shower instead of a bathtub)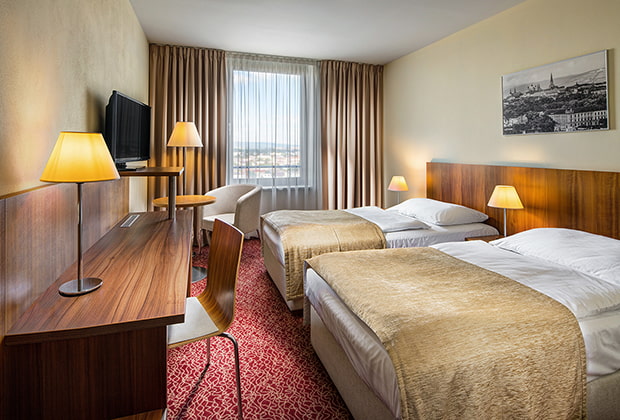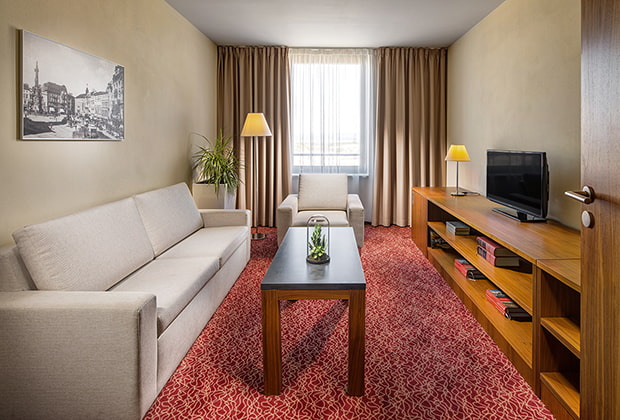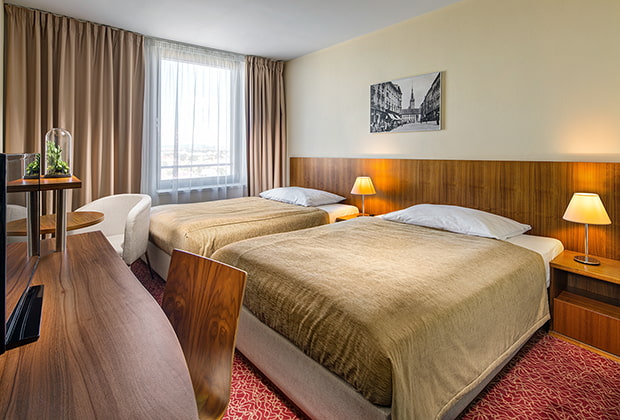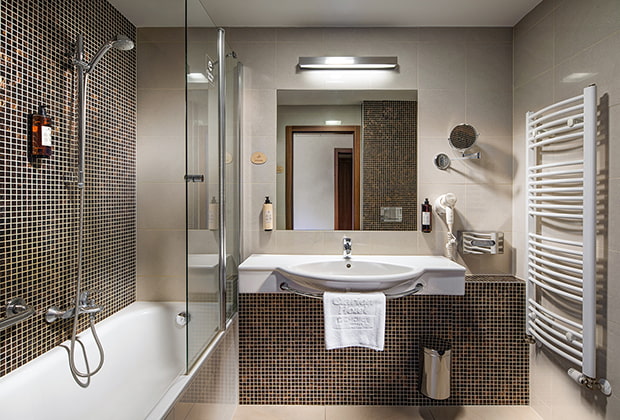 Suite
Maybe you are looking for something more and a bit more space. Then there is a suite with a bedroom and a separate living area just for you.
Separate bedroom and living area
Two LCD televisions
Refrigerator
Coffee and tea set
2 large Queen size beds (140x200 cm)
Extra⁠-⁠bed possible
Air conditioning
Safe
Ironing set
Bathtub
Quality Italian Prija cosmetics
Hair dryer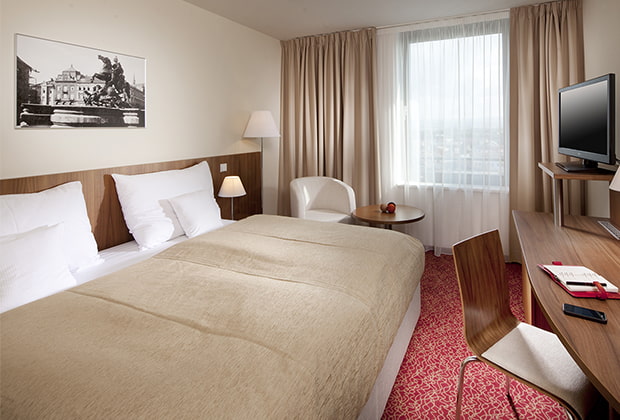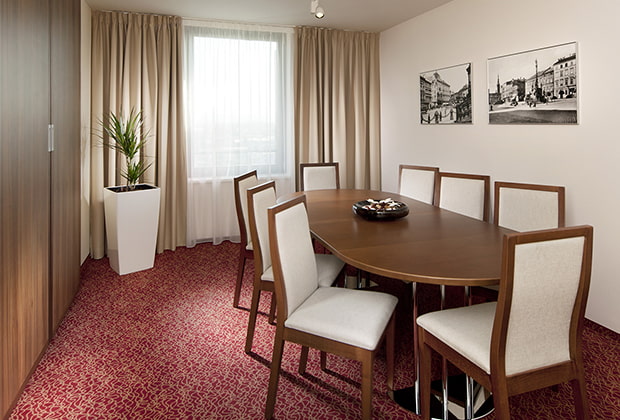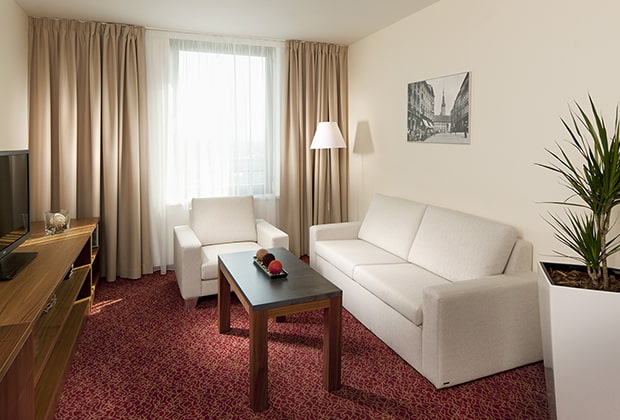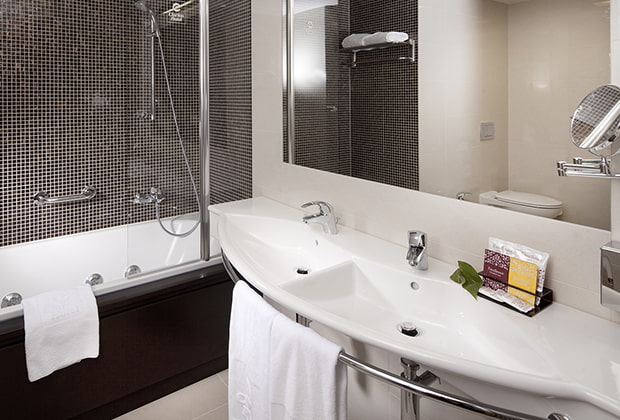 Business Executive Suite
You require a meeting place for up to 12 people, a living area and a bedroom. We understand and have a suite that meets all of your expectations.
Two LCD televisions
Massaging bathtub
King size bed (200x200 cm)
Coffee and tea set
Refrigerator
Separate bedroom, living area and conference lounge (max. 12 people)
Extra⁠-⁠bed possible
Air conditioning
Safe
Ironing set
Quality Italian Prija cosmetics
Hair dryer
Just a room for the night is not enough. Make the most of all the benefits of staying with us.
Sometimes you have so many meetings you don't even have time to stop for a coffee or meal. The Benada Restaurant is right here in the hotel for just such occasions. Prompt service, good coffee and carefully prepared meals will give you a moment of peace in an otherwise busy day.
You have to know how to relax to have a successful day. Clear your mind and relax your body in the beer spa. Enjoy the relaxing whirlpool and the Finnish and steam saunas. We highly recommend the oak bath featuring ingredients used to brew beer.
Concierge
Leave it all up to us. Get in touch if you need:
To print, scan or copy something
To purchase a ticket
To rent a car or hire a taxi
To reserve a table at a restaurant
To send something by post
To reserve tickets to cultural events (theatre, cinema, museum, etc.)
Or anything else that comes to mind
Wellness centre with beer spa
You need to be able to rest. Stop and bring peace to your body and mind. We have prepared just such an oasis of well⁠-⁠being for you. Visit the exceptional beer spa. In addition to the classic steam and Finnish sauna and whirlpool, you can also book an oak or lavender bath.
Water heated to a constant 35 °C awaits to ensure you enjoy the same comfort at the beginning and end of your soak. The bath is enriched with special ingredients, which beer are used to brew beer. The exact ratio of hops, barley and malt is top secret, but we can tell you one thing. You will remember the moments of rest and well⁠-⁠being for a long time to come.
Ready to make a reservation? Have any questions? Please contact us:
T: +420 581 117 141
E: recepce@pivnilaznebbbolomouc.cz
Parking
If you are arriving by car, there's no need to check maps for parking around the hotel in advance. Simply park in our hotel garage. But be forewarned, there is only 2 meters clearance in the garage. Does you car run on CNG or LPG? We'll be happy to recommend parking in the immediate vicinity of the hotel.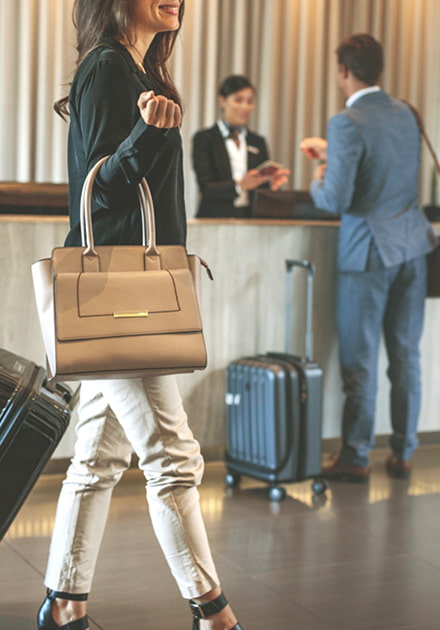 Check⁠-⁠In ⁠-⁠ You can arrive earlier, but please let us know in advance so we can make arrangements. Our reception is at your disposal 24/7. We look forward to seeing you.
Check⁠-⁠Out ⁠-⁠ If you need to leave at a later time, please contact us in advance. We will be happy to assist you if possible :)
---
When discovering the magic of Olomouc, you need to have a place to return to after a long day. That's why we're here. A modern hotel in which you are not just a name on a list, but our important guest.
24⁠-⁠hour reception
Parking for cars and buses
Restaurant and lobby bar
Room service
Free Wi⁠-⁠Fi
Concierge
Taxi and transfers
Barrier⁠-⁠free rooms
Beer spa